Good morning Vietnam!
In fact it is more of a Goodbye Vietnam because I am writing this from a hostel in Bangkok. We came back to Thailand to see its northern part and are staying here to take care of a few matters (will my backpack be fixed this time?). We left Vietnam with mixed feelings, especially Wojtek is mentioning quite often how happy is he leaving Vietnam behind.
But ad rem, there will be again a lot of reading and even more photos.
We started big, by booking our first night in An Nhơn Tây close to Cu Chi tunnels. Before crossing the border I read a lot about how difficult it is to travel there, that people will try to cheat on you or steal, take you to the wrong place or at least stare at you with a vicious look. In reality we met friendly and helpful people sometimes curious what we are doing there. In the above mentioned village, random local people helped us get to our hostel and even followed us to make sure we found the right place (local grandma, their neighbours, kids and dogs). Vietnam was also an evening of cooking of our national dishes and a crash-course on riding a scooter.
Cu Chi Tunnels or a lesson on Vietnam history – Viet-Cong and the heroism of poor villagers under the boots of an aggressor. Sicle and hammer on every corner as a reminder we are in a socialist country, propaganda and single-sided view on history are all well here. Still the place stays in your memory.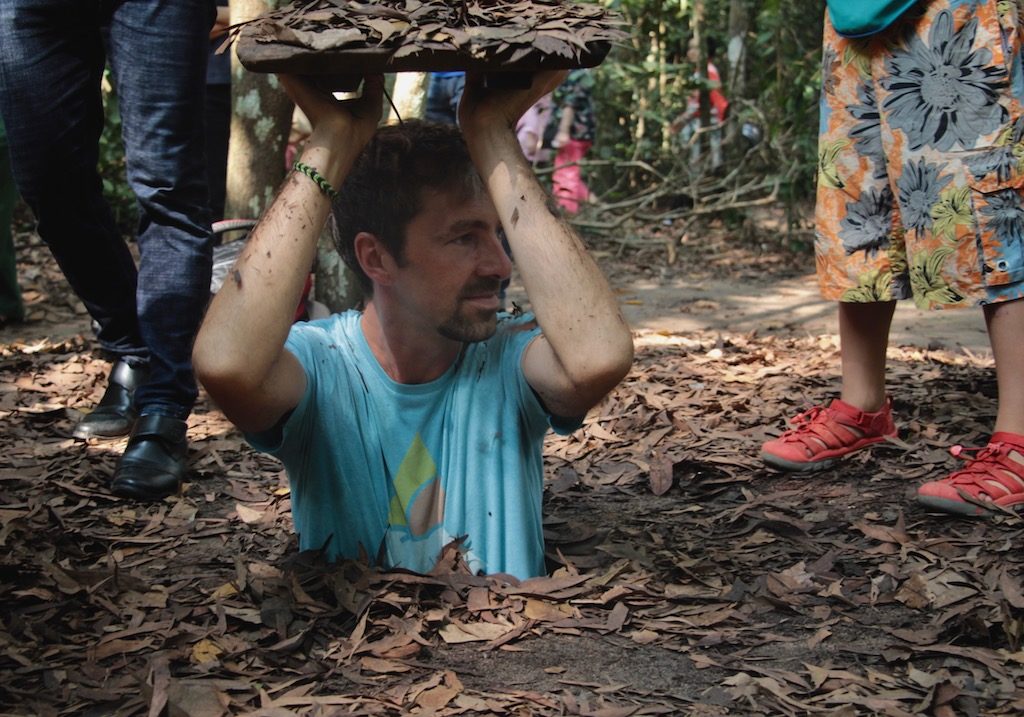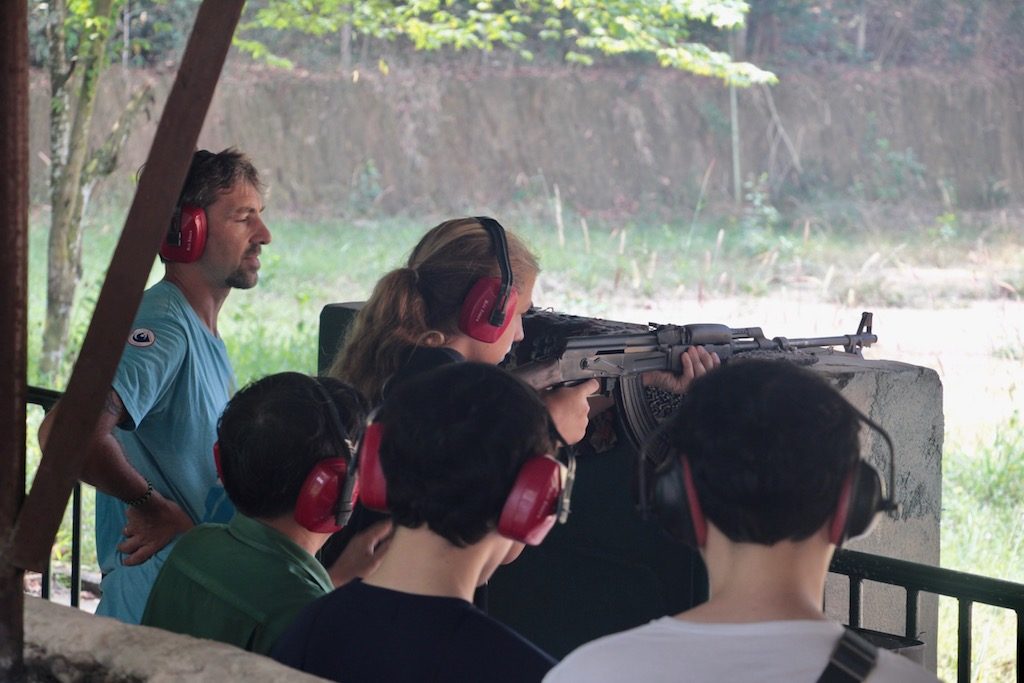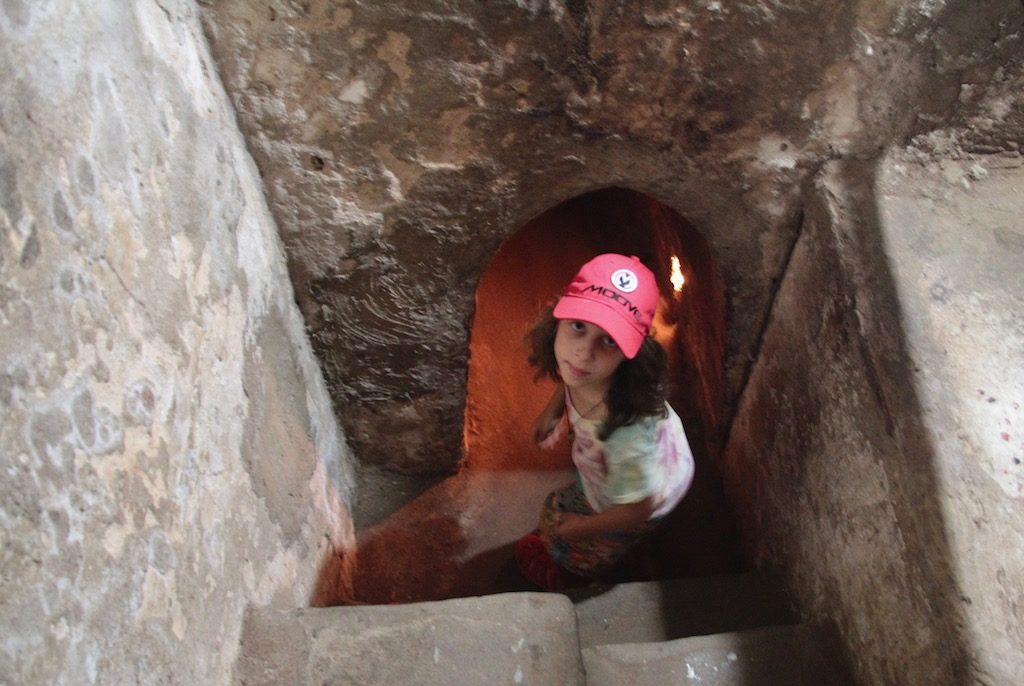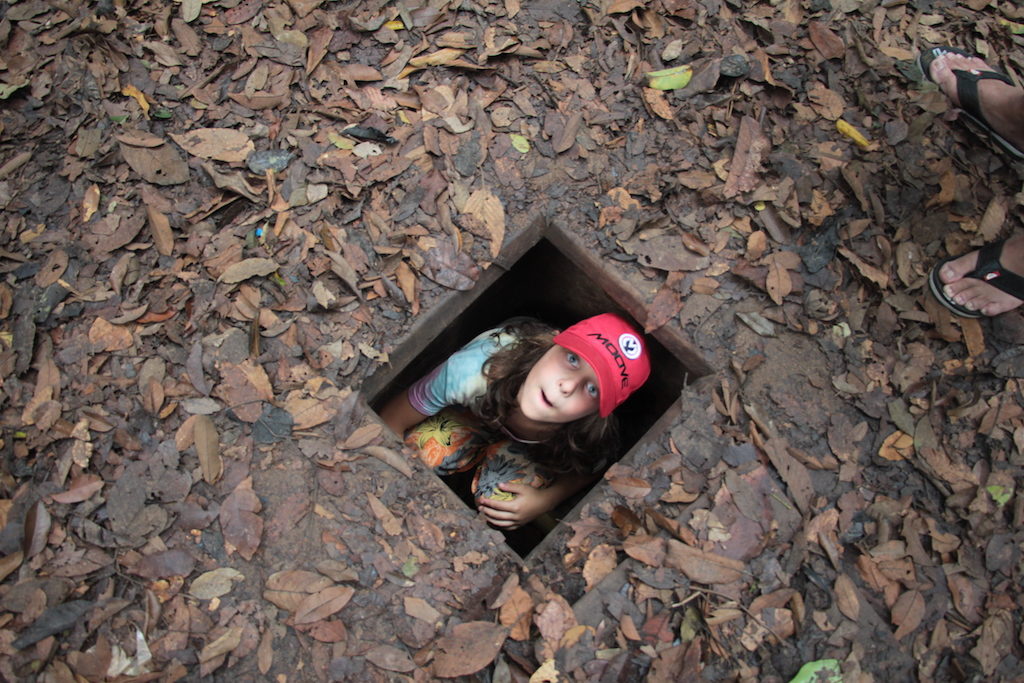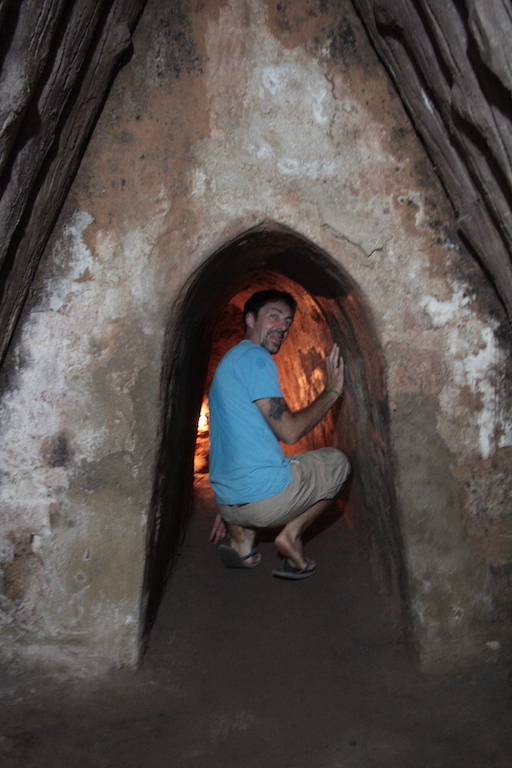 Saigon, recently covered by Tytus, was overwhelming. For me the most difficult of all Asian cities. The amazing climate of narrow streets of 1st districts – micro-stalls, micro-street-food, all city life going on these tiny streets and bowls of soup everywhere. But apart from that, dirty, deafening loud. The legendary "street-crossing-process" quickly turned into an irritating chore and constant fight for your life. Traffic laws are non-existent and whoever is bigger, has the right to go first. Driving on the right side is often only a matter of negotiation and everyone uses their horns. All the time.
The War Remnants Museum (here called the Americal War) is again a single-sided view on history. Yet still the main message – the cruelty of war – again leaves a mark in my memory.
Finally the Mekong delta – for the first time we bought a trip directly from the hostel without prior research. This was a festival of consumption, only reassuring us that if we are to travel, we have to do it our way.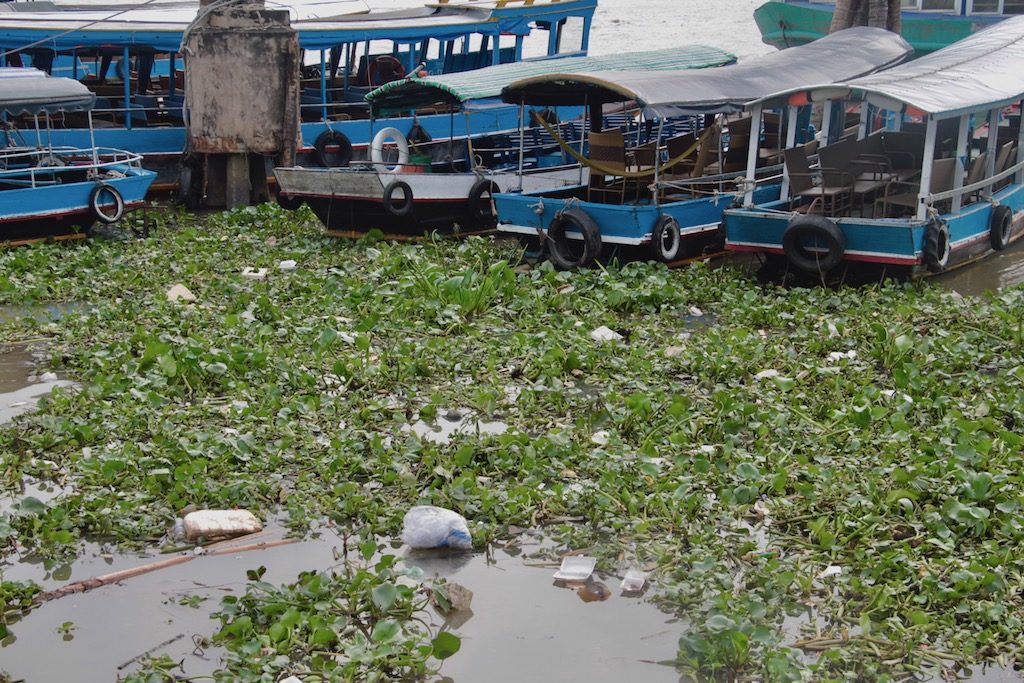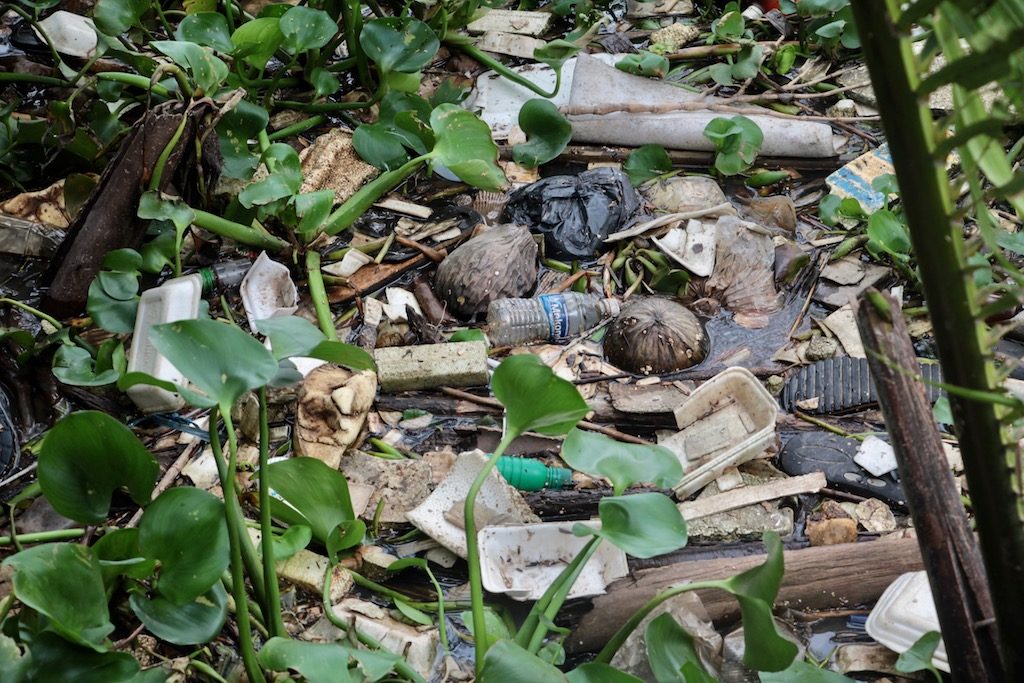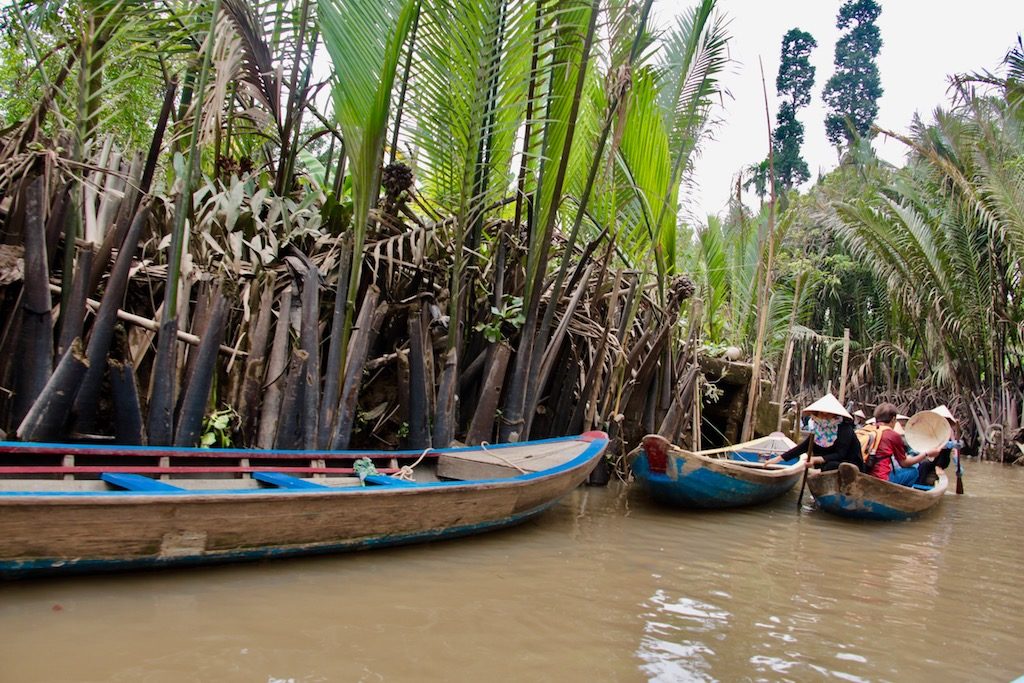 We escaped Saigon equipped with additional longsleeves because northern Vietnam was supposed to be much cooler than south. Da Nang welcomed us with 16 Celsius degrees and it felt like freezing after so many weeks in summer heat. Moreover we quickly realized the cold will stay with us longer – there is no heating in the hostels and sometimes it is colder inside than outside. The mornings and evenings are foggy, everything is damp, sometimes with mould on the walls and the smell of a lake is also included in the price. On top of that we had our first healthcare experience – Simon got fever but luckily it was neither malaria nor dengue fever, so we just decided to stay in our hostel one day longer and wait. The fever disappeared in two days and so we moved on. In the meantime we paid a visit to beautiful Hoi An with hundreds of lampions in the Old Town and Mỹ Sơn – a Cham temple complex (or rather its ruins – restored mostly by polish team under guidance of Mr Kazimierz Kwiatkowski)
Hoi An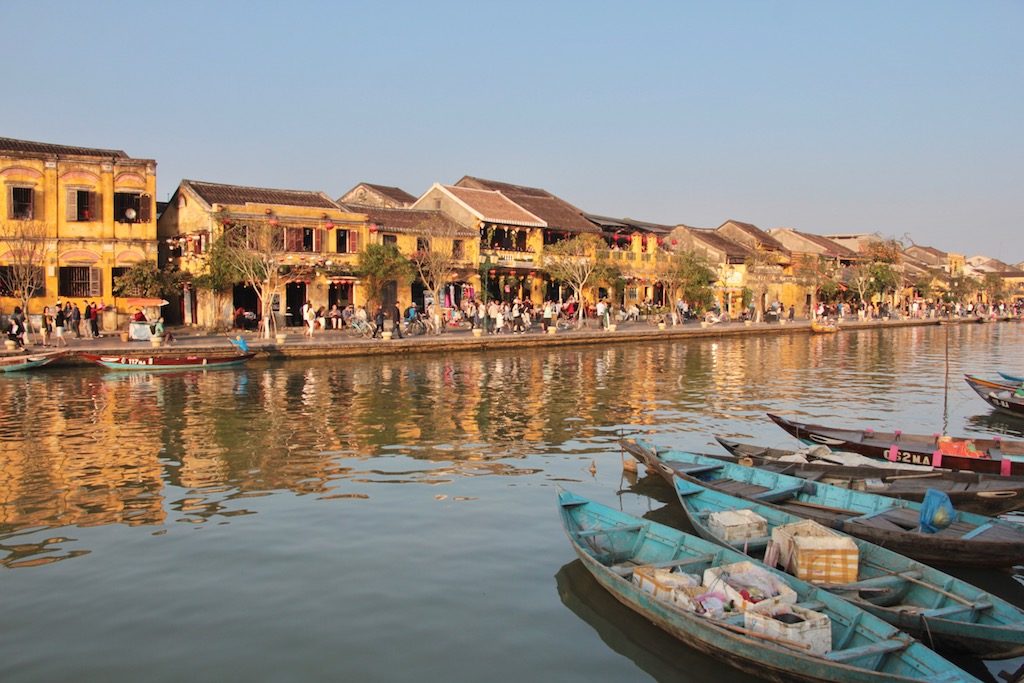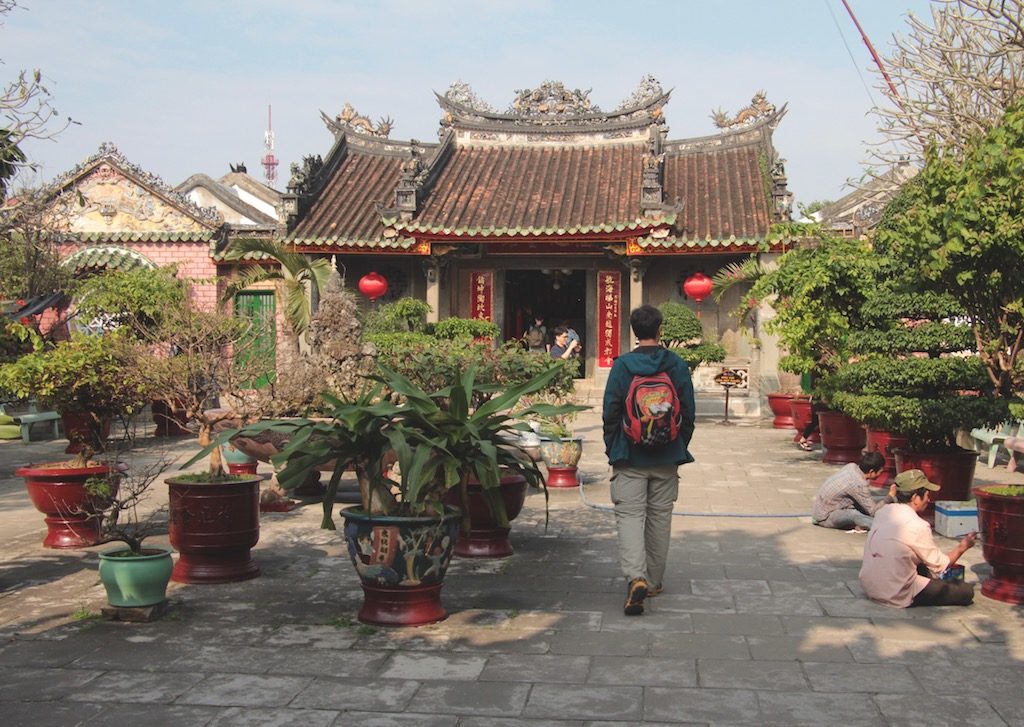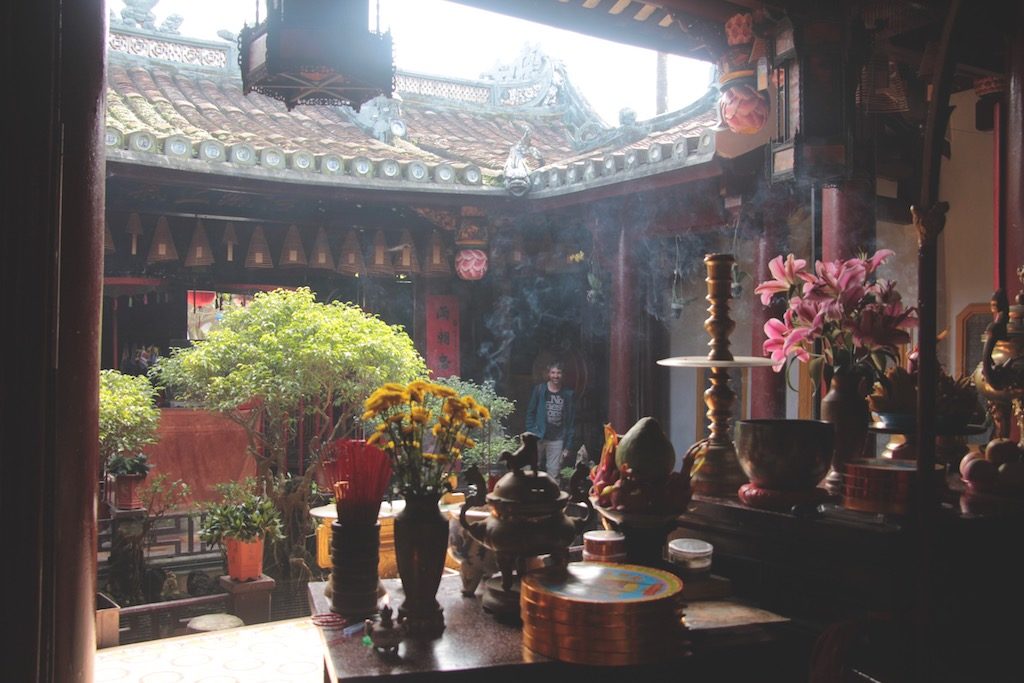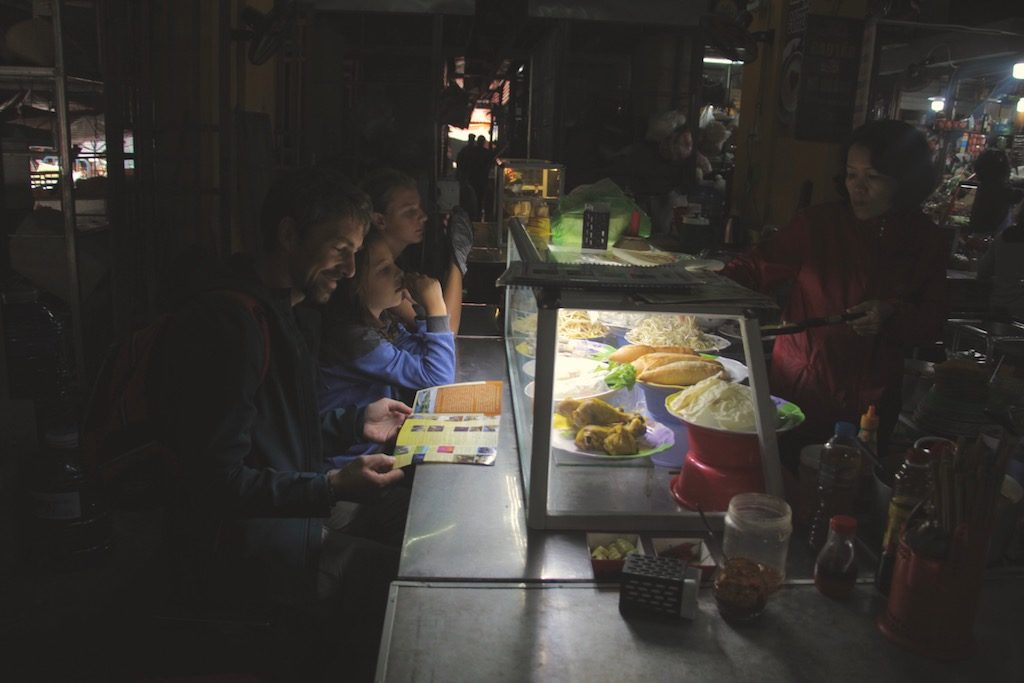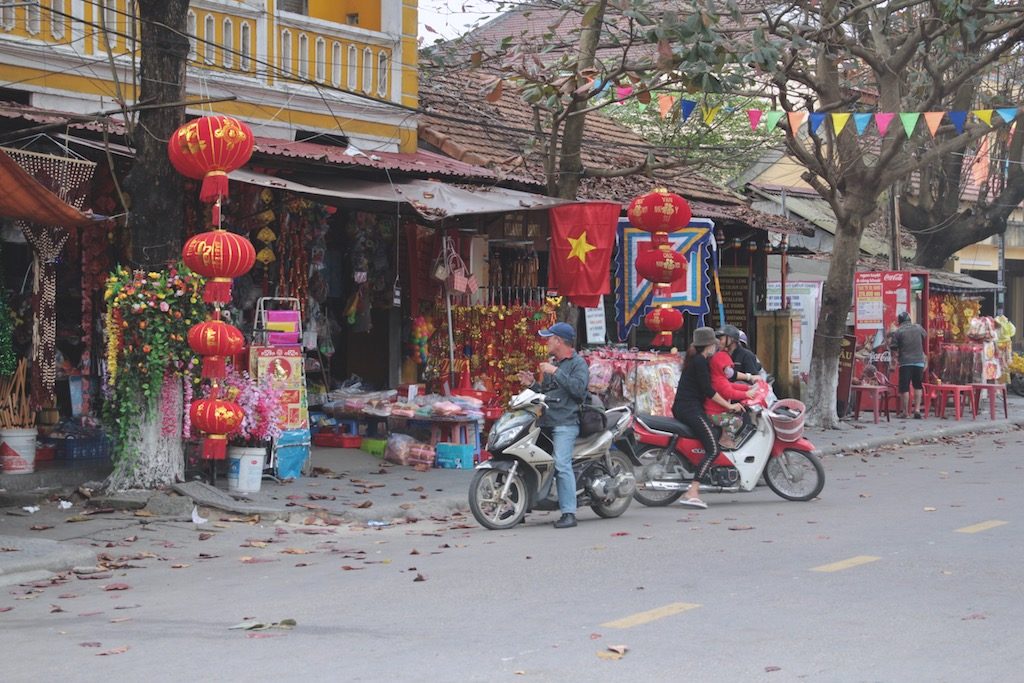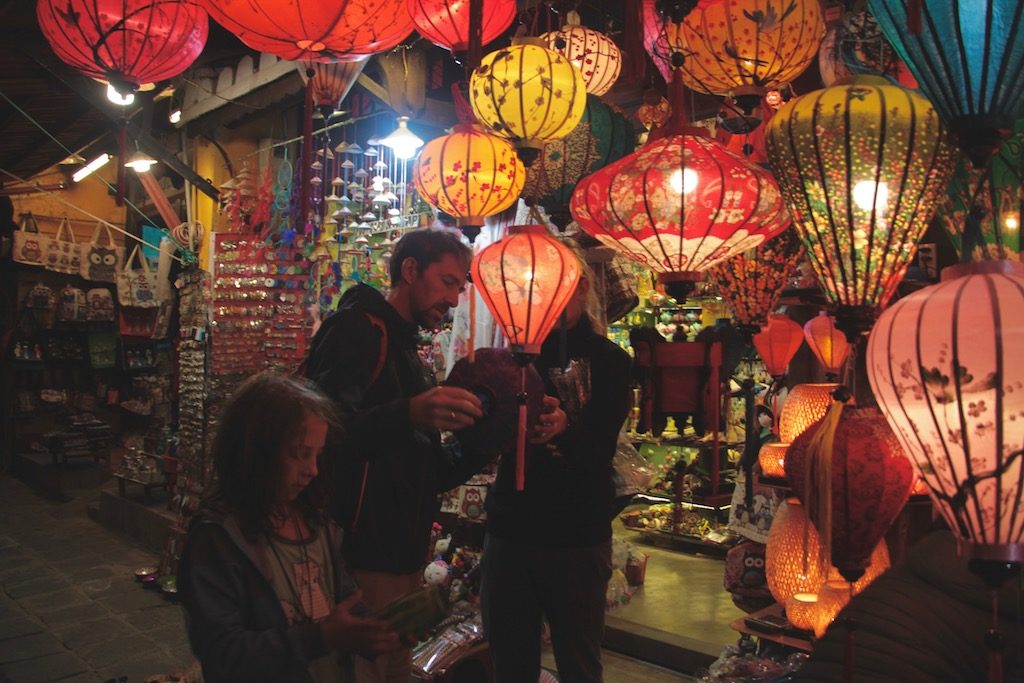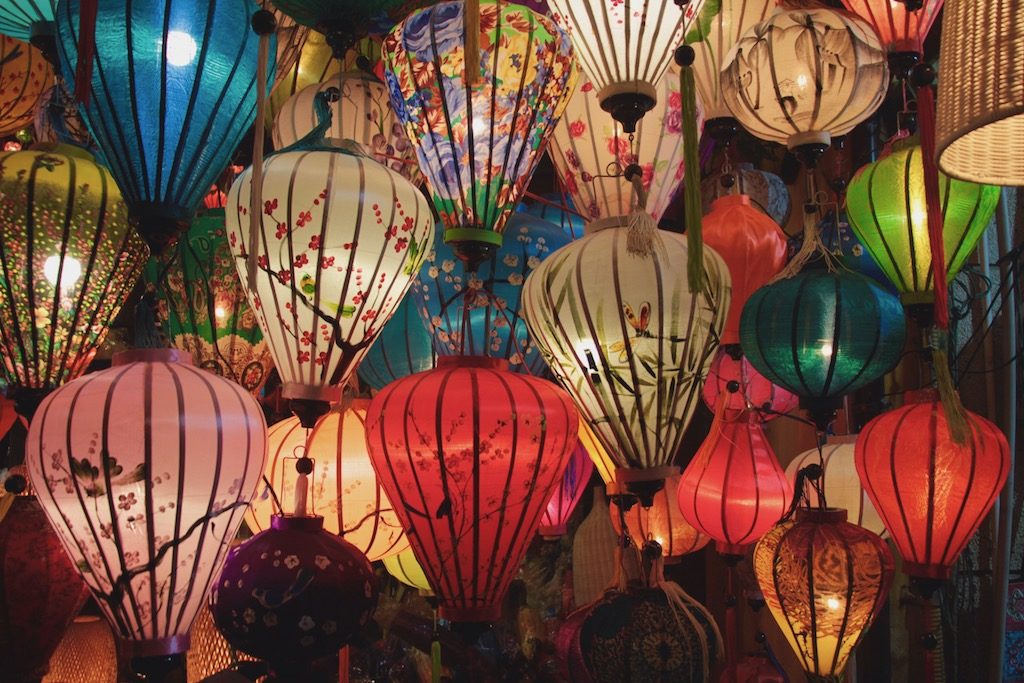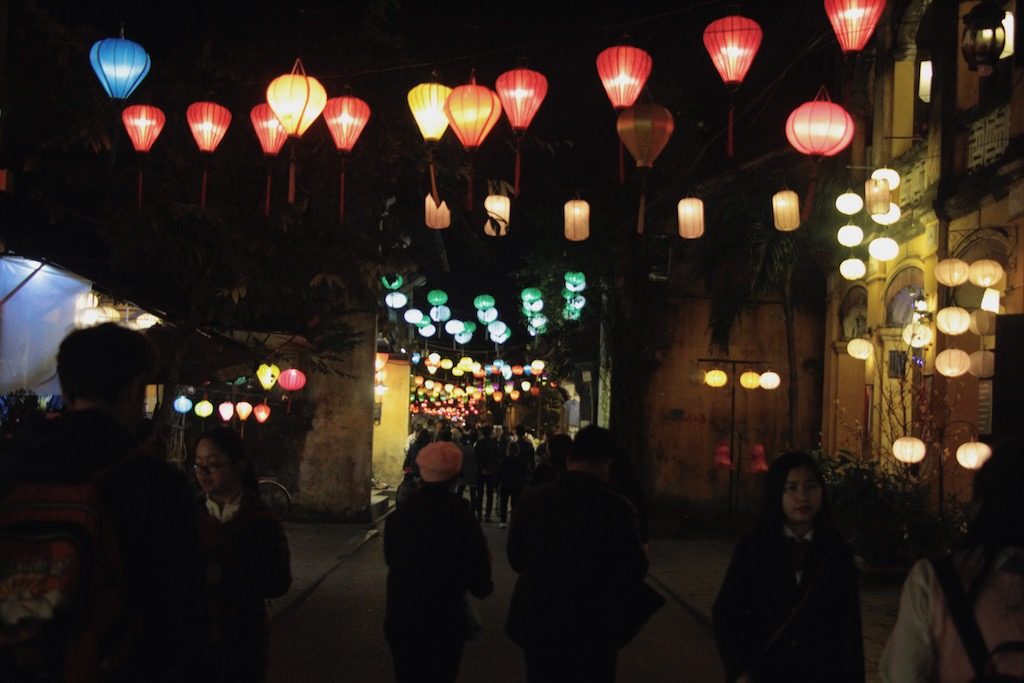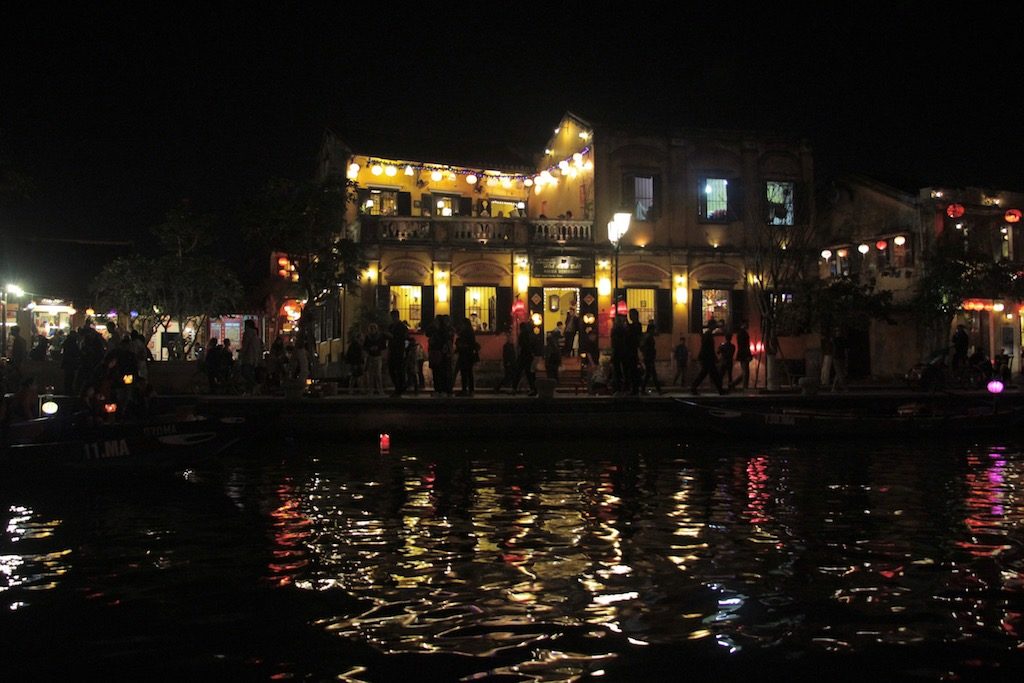 My Son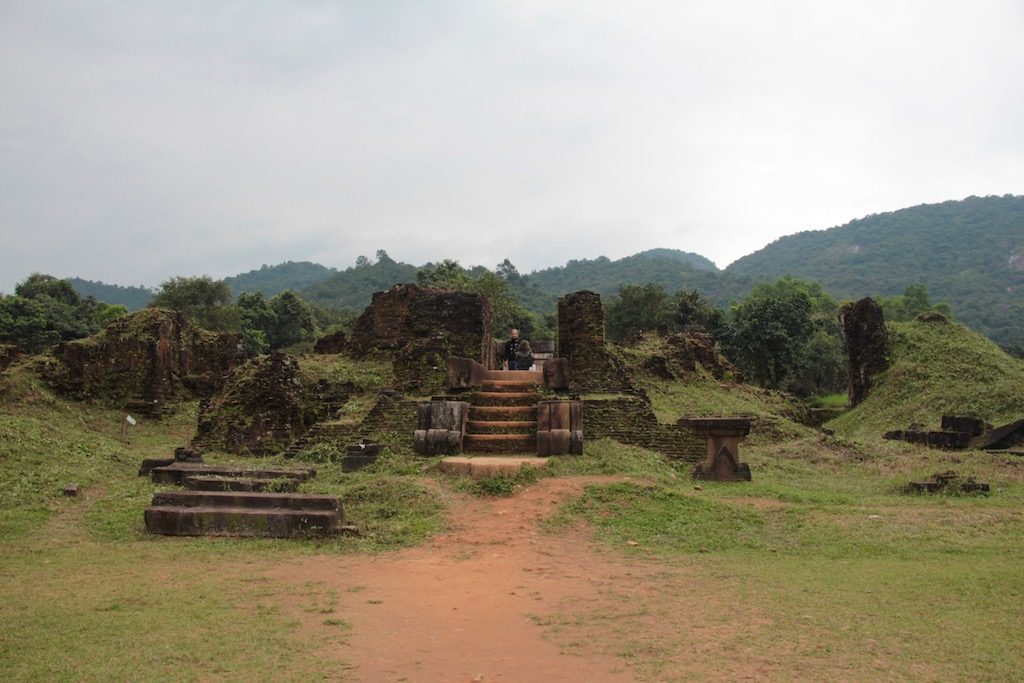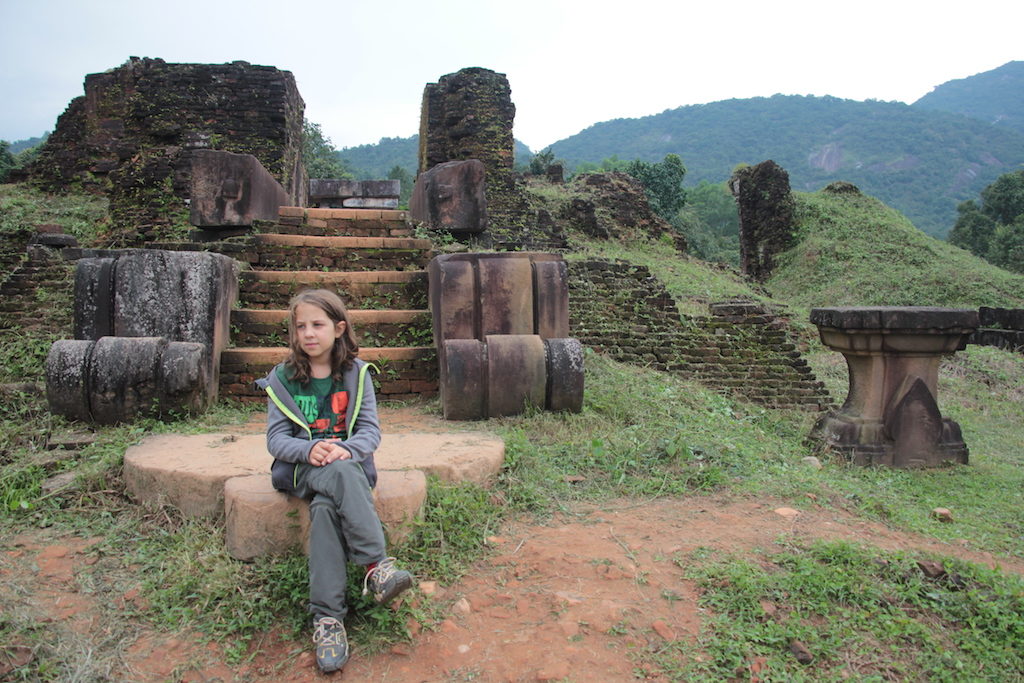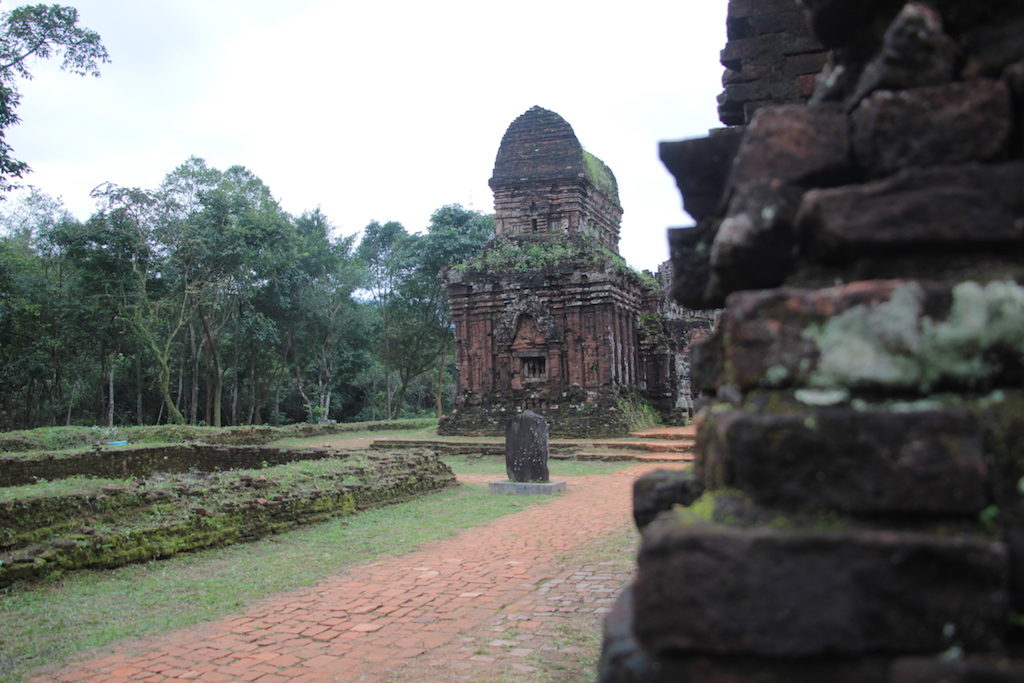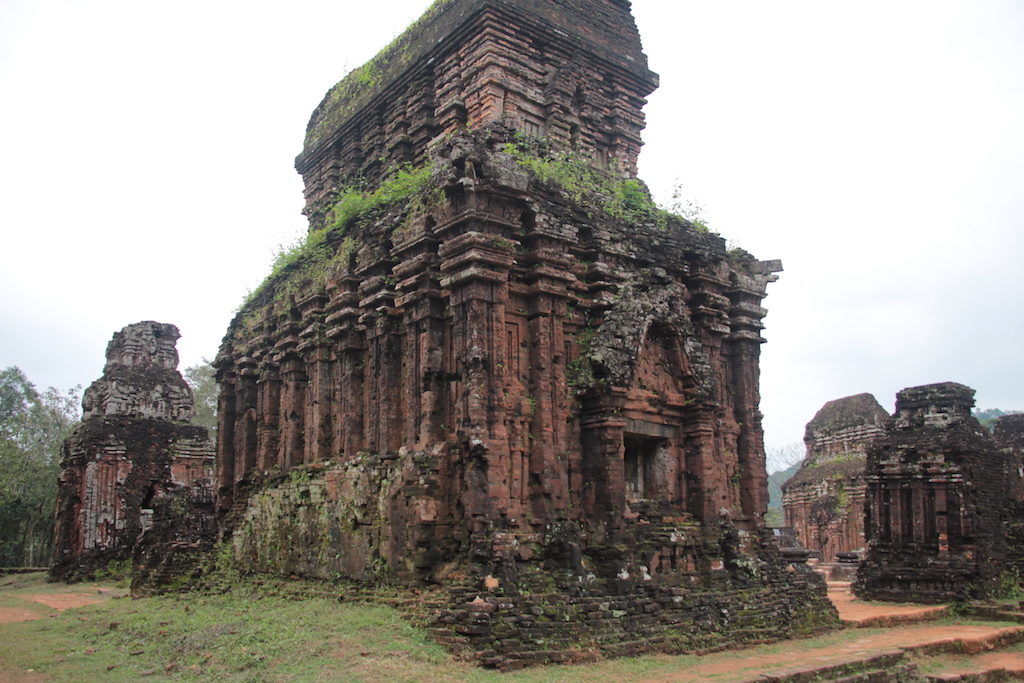 While we flew from Saigon to Da Nang, the exploration of the rest of Vietnam was done by train. The route north of D Nang is very picturesque and we took it in steps, sometimes in sleep berths, sometimes in normal train cars of various classes. We reached Ninh Binh, known for spectacular views and called Ha Long on land. There we consciously took the longest route, skipping tourist traps like movie set of "Kong-skull island?" Whatever. It is quiet, empty, with great views, caves and buddhist temples.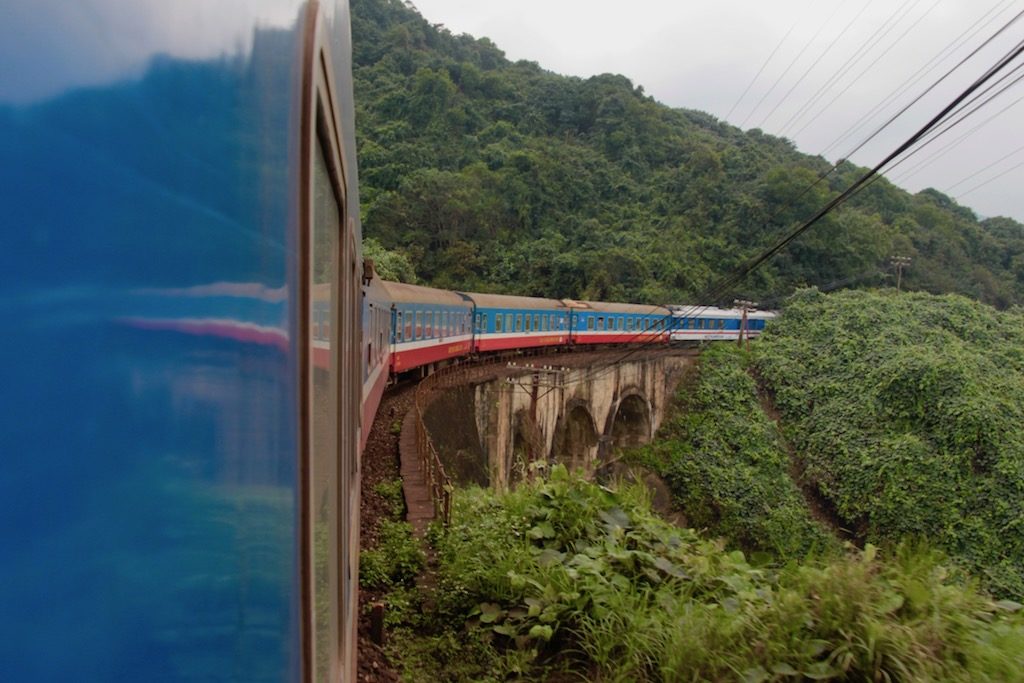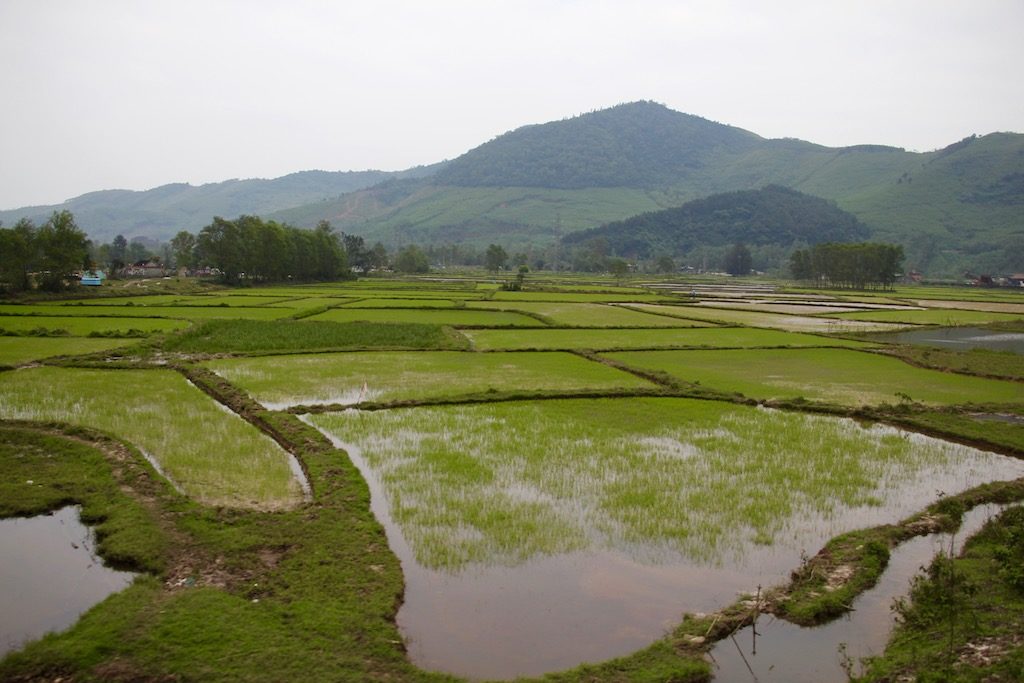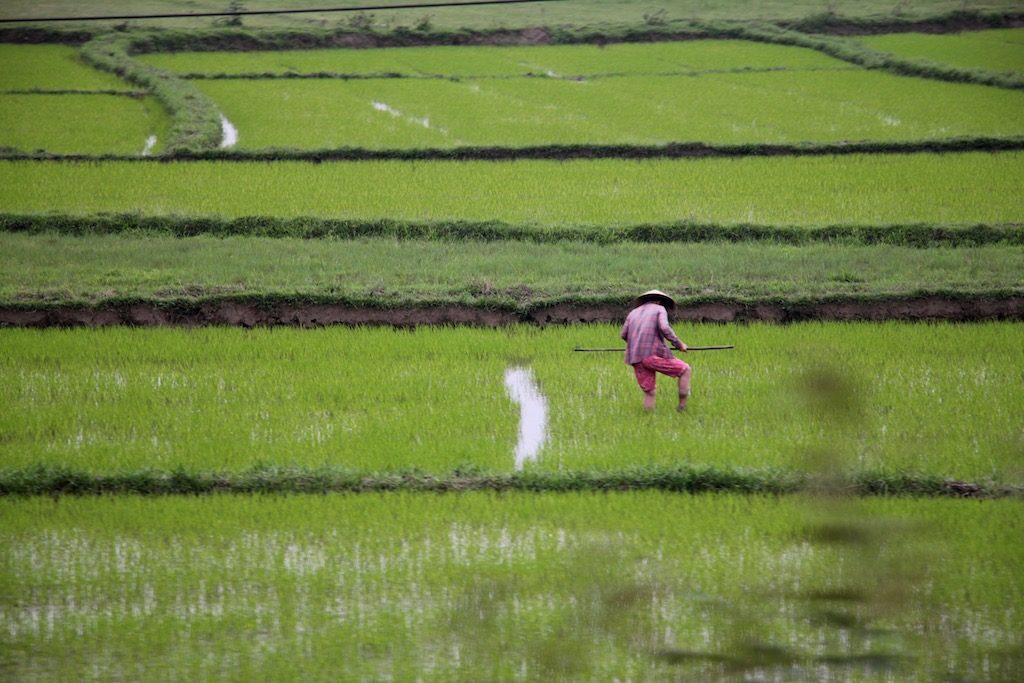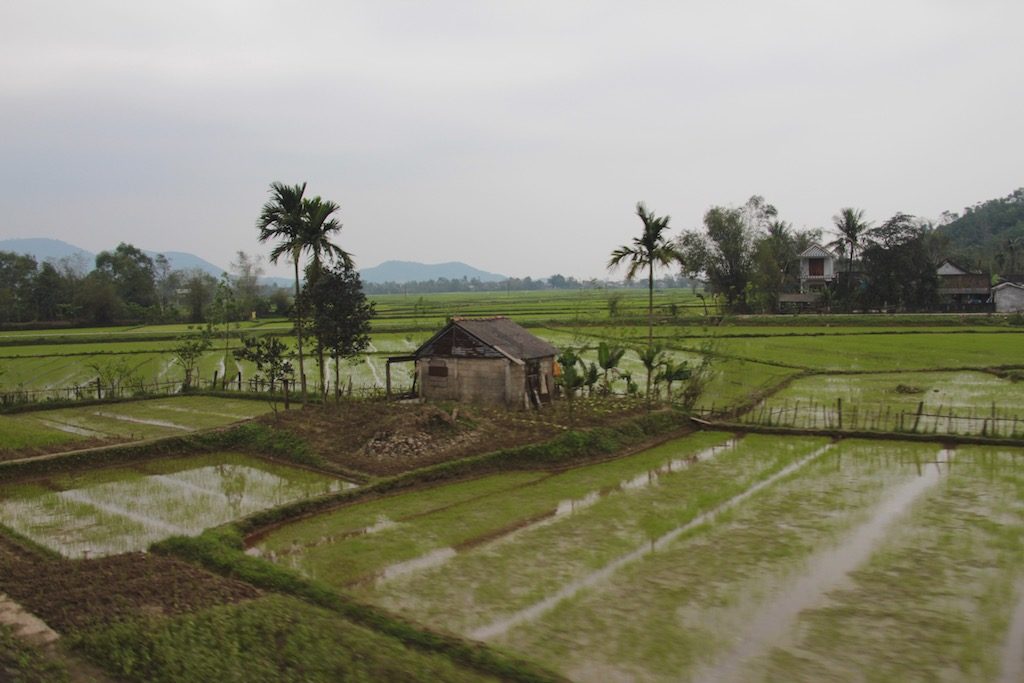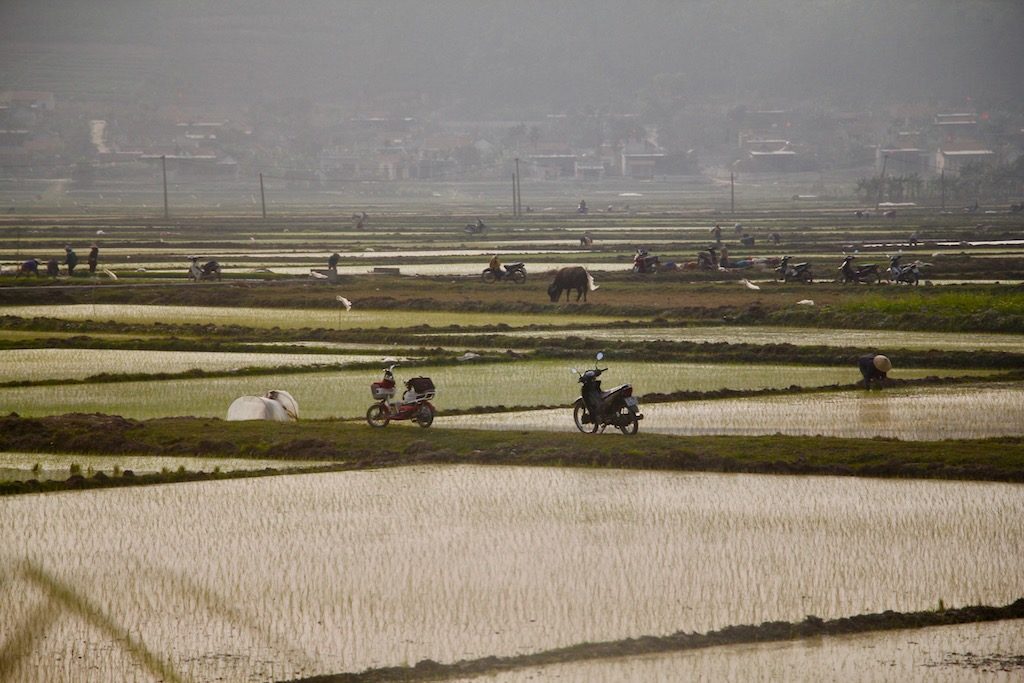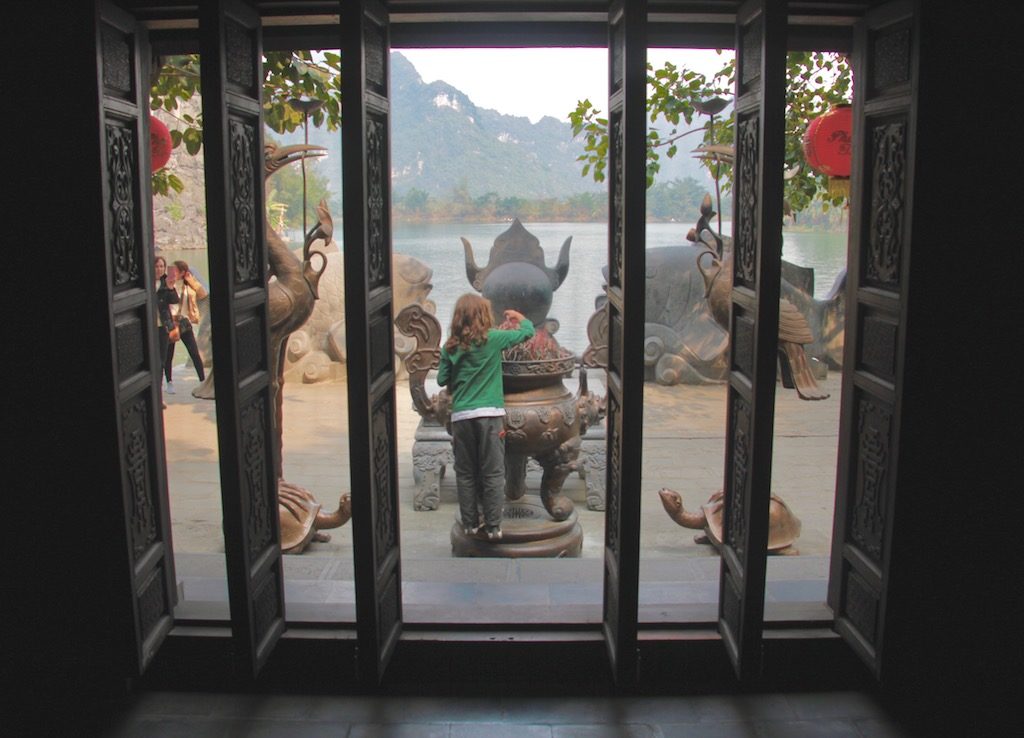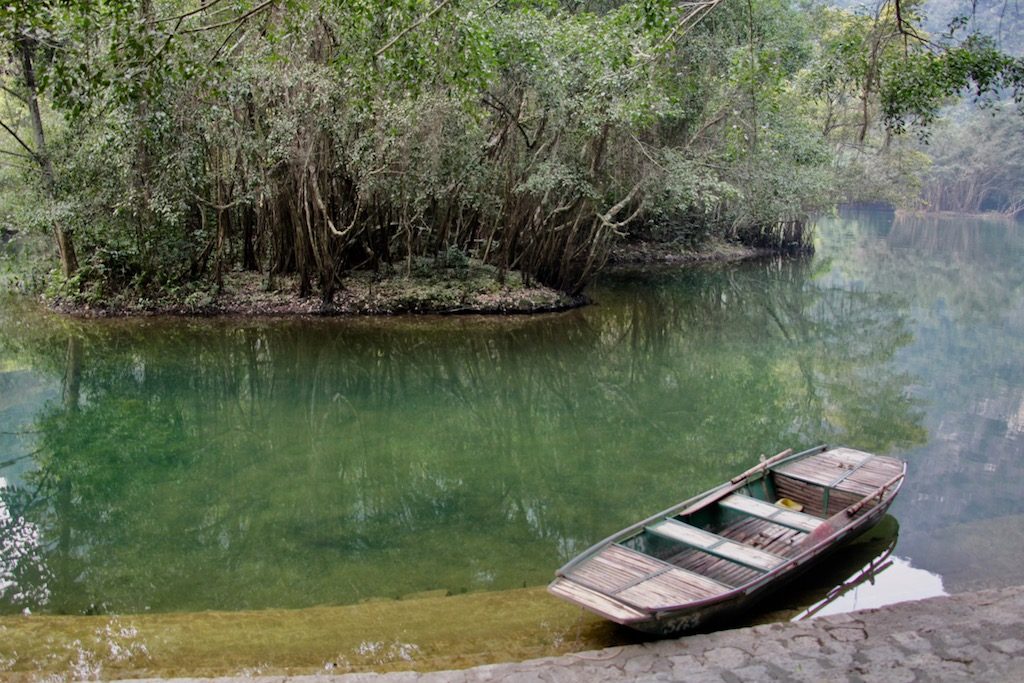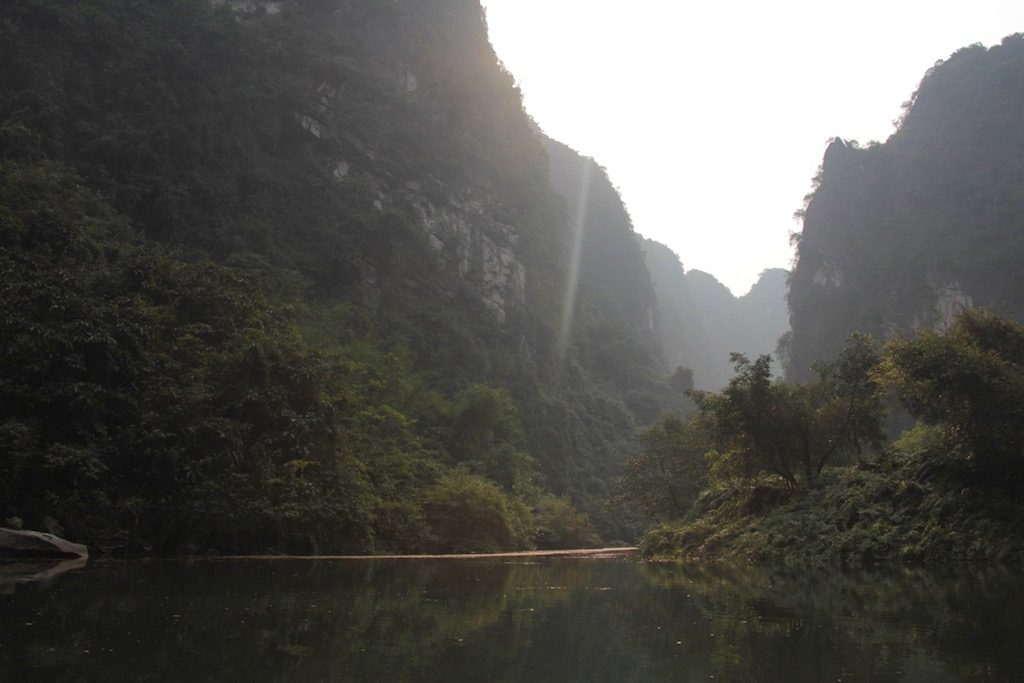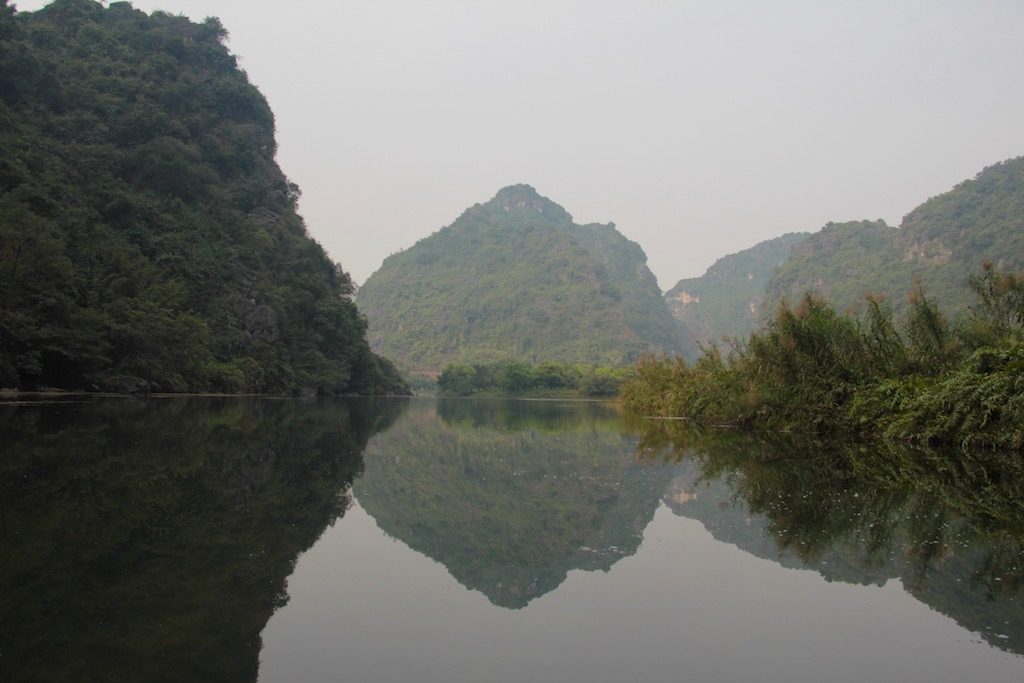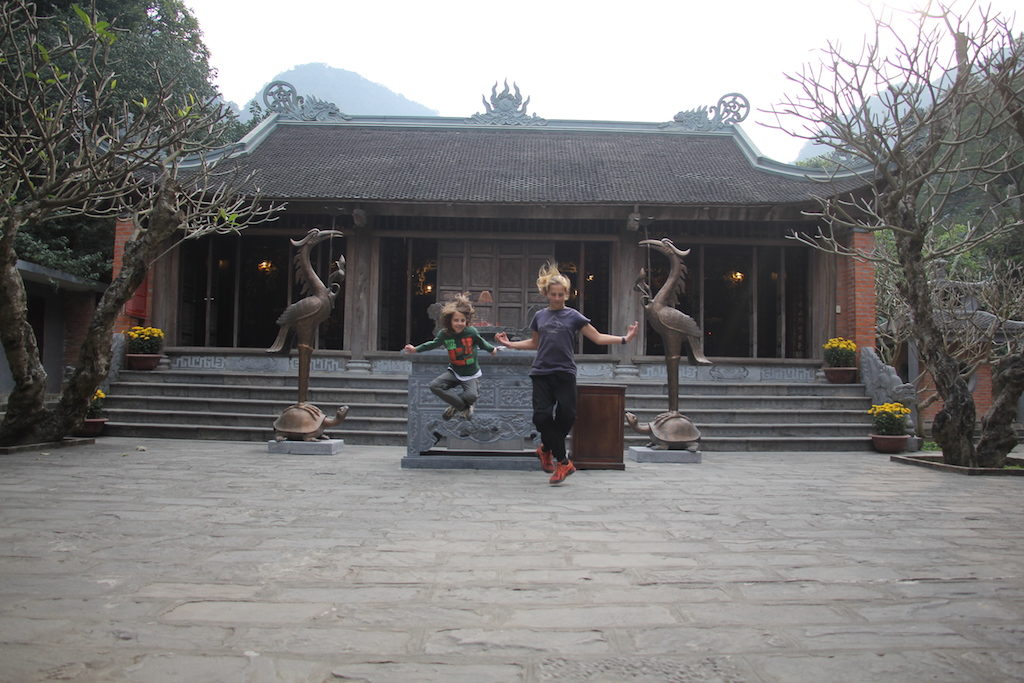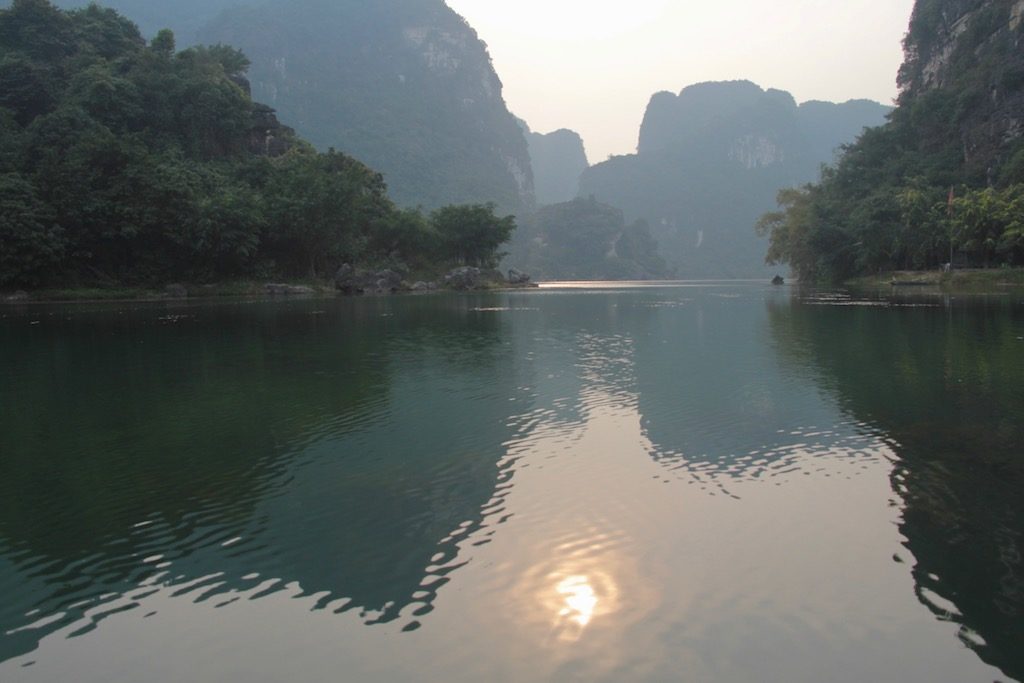 And finally Ha Long, of which we heard so many bad things that I started to question whether we should go there at all. Crowds, rubbish, tourist trap… With Mekong tour experience still fresh in our minds we decided to do everything on our own – go to Cat Ba, wait for a short window of reasonable weather and get a private boat, so that we can decide where to go and what to do (from Cat Ba you have to cross Lan Ha bay first and then you reach Ha Long). The views were spectacular and fog made the experience even better. Nevertheless when finally in the afternoon, the sun got through the coulds the waters turned turquoise and even more beautiful. At the end of the day I was lost for words watching the sunset.
We had a large boat for us and there were not so many other boats. We had only one incident with other tourists, who thought that showing their pale asses or waving their unimpressive dicks at other people is funny. After lunch we hopped on kayaks despite cold because if the views are to get better I did not mind the weather getting colder 🙂 We also paid a visit to a floating village and this was science-fiction. How can you live in a small cardboard hut floating betweeen these mountains. I would totally repeat Ha Long including overnight stay on the boat and in such floating homestay too.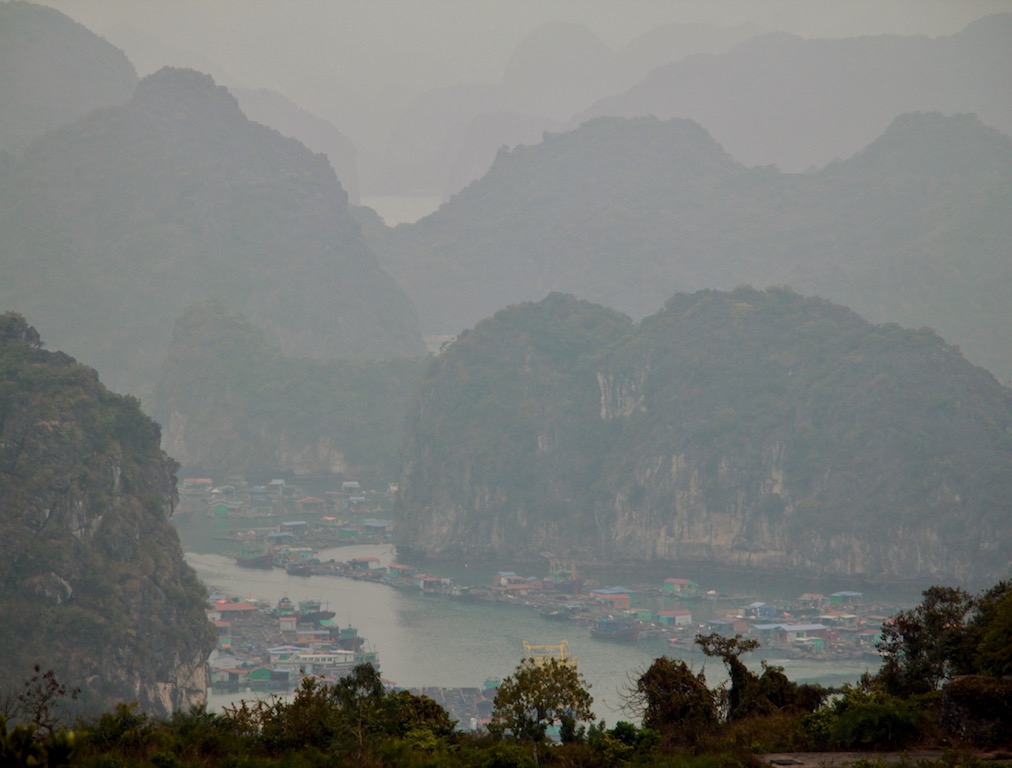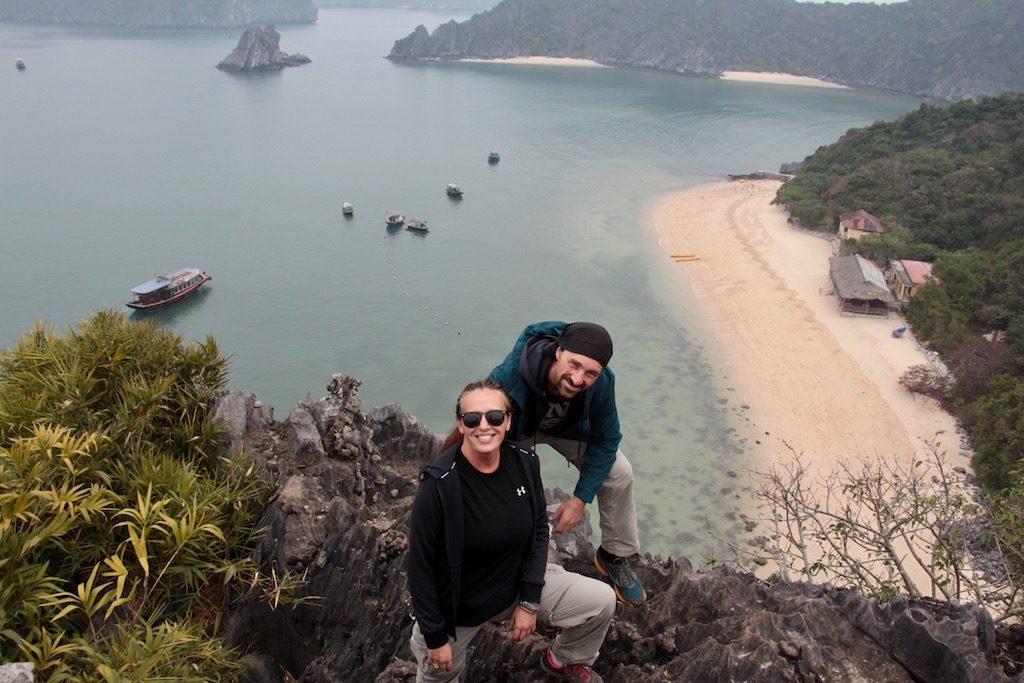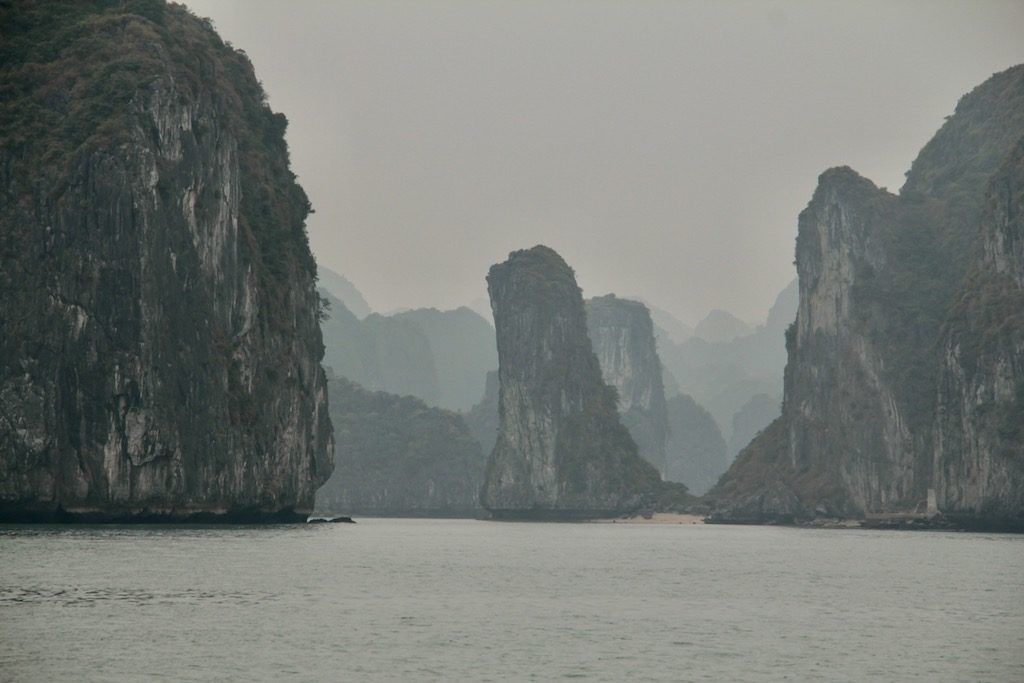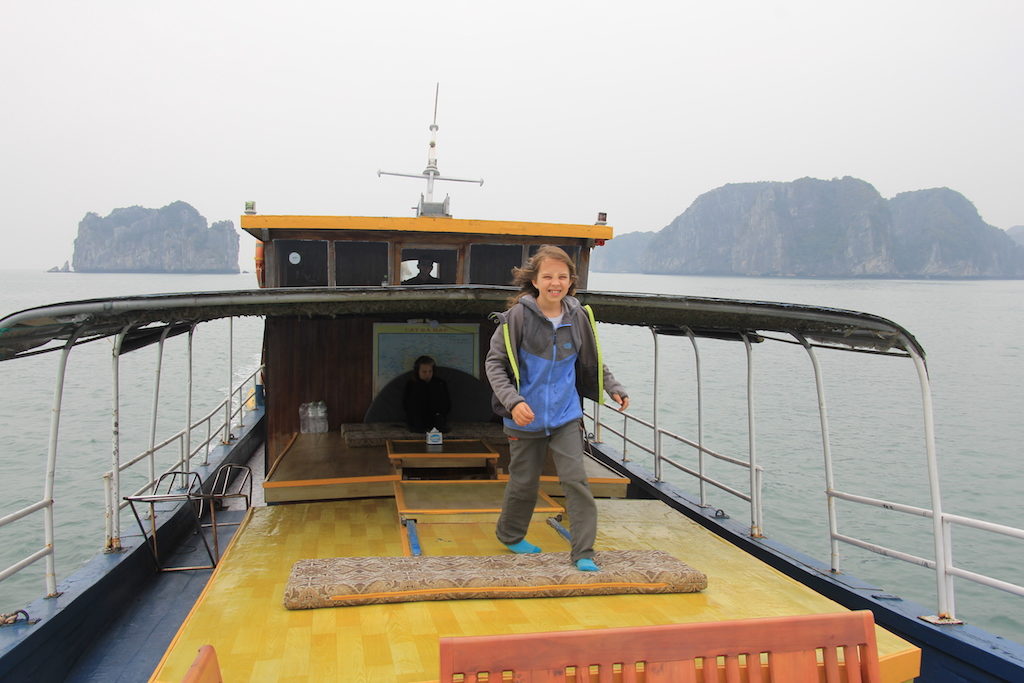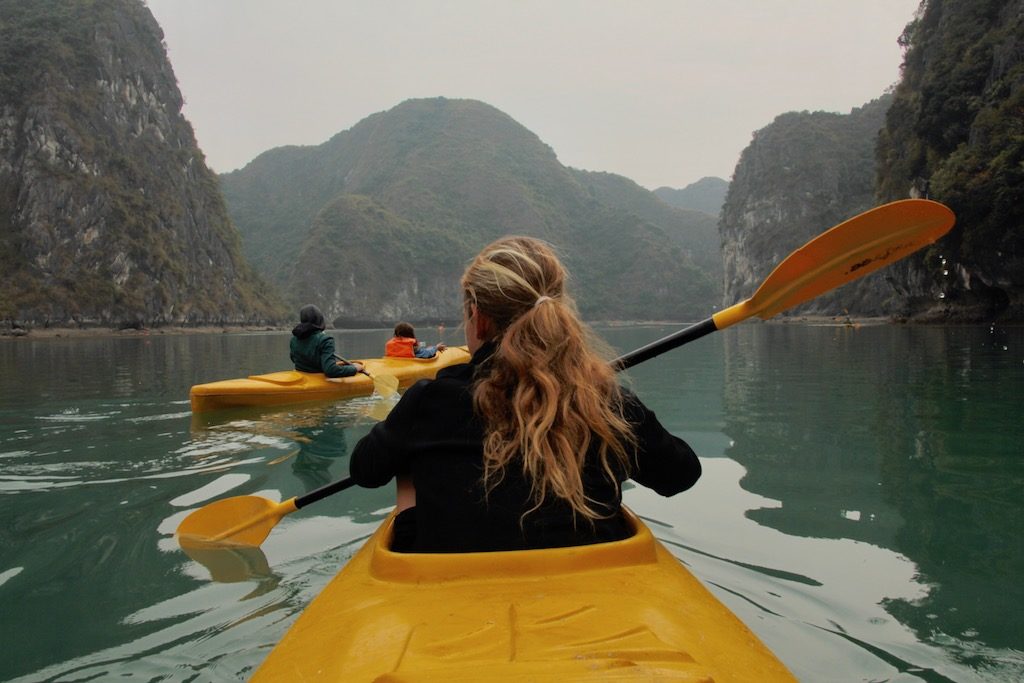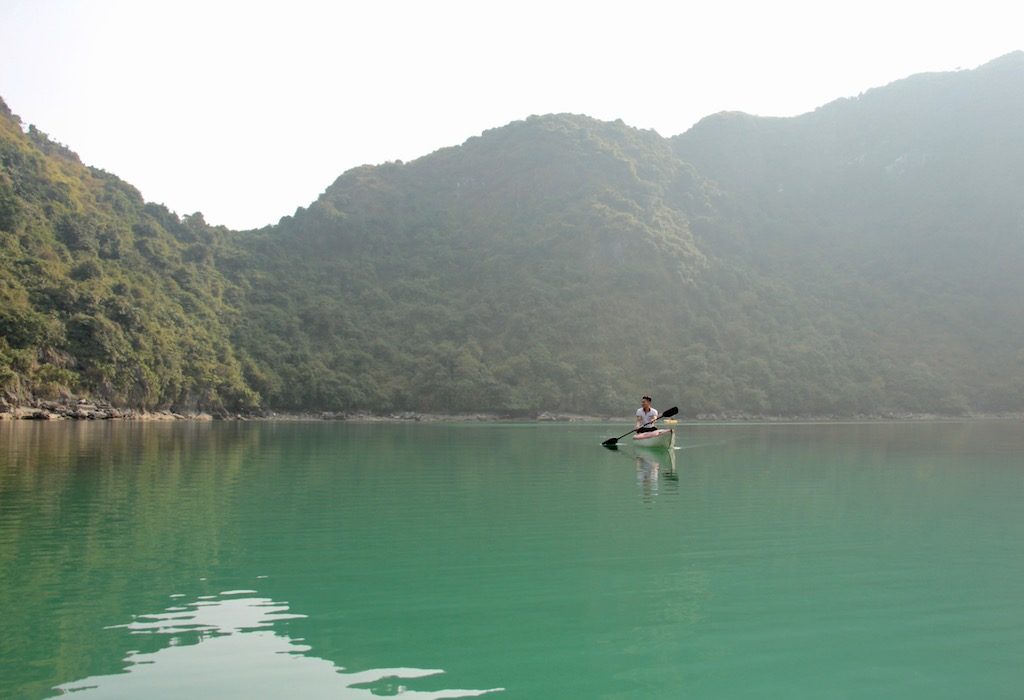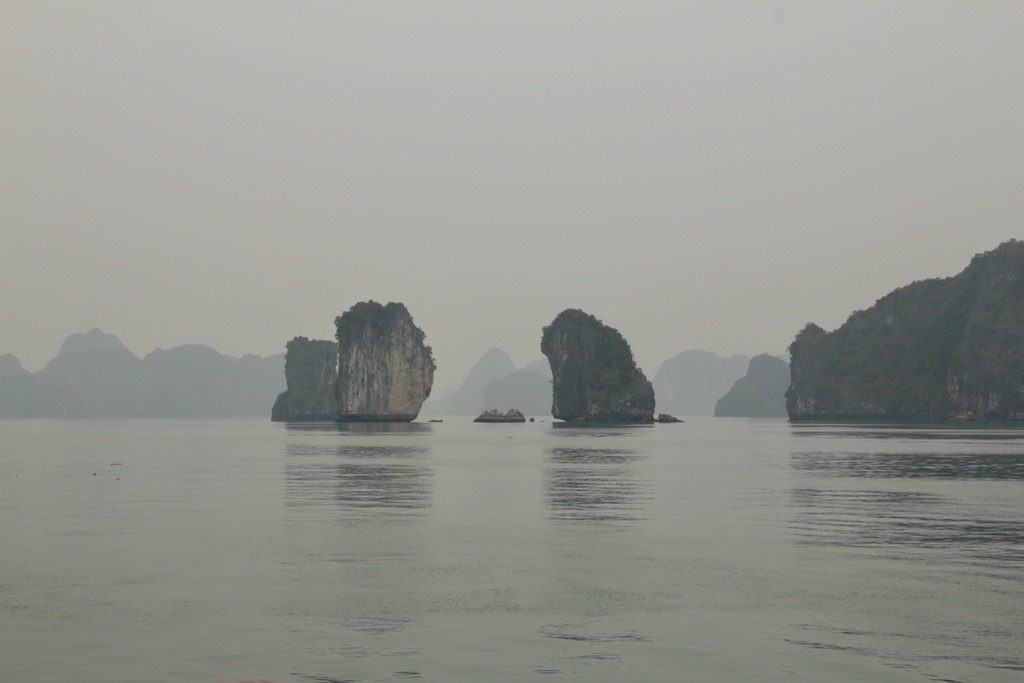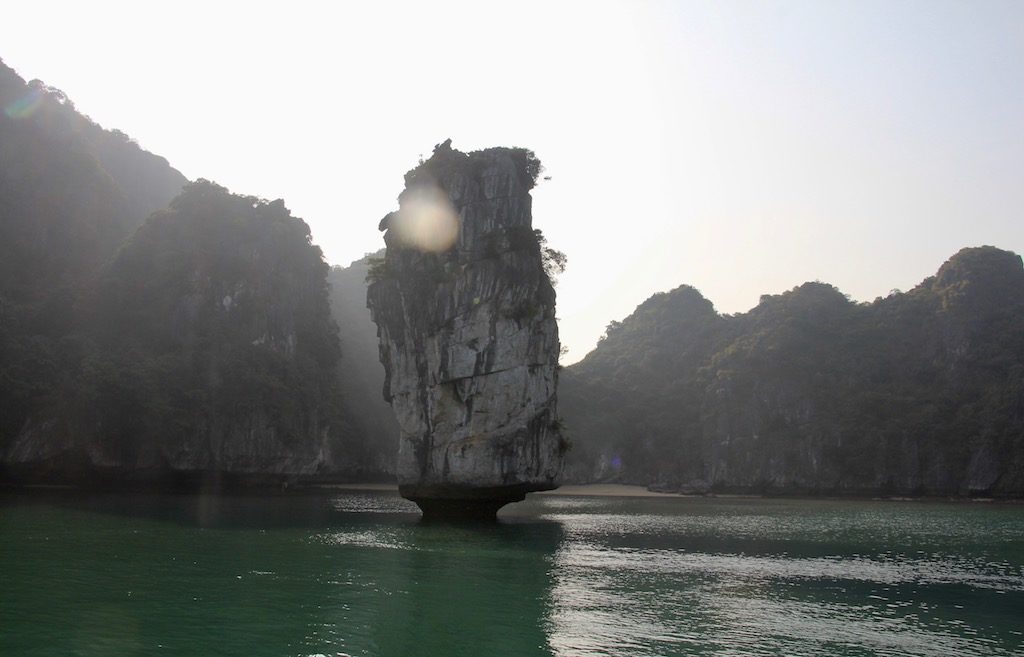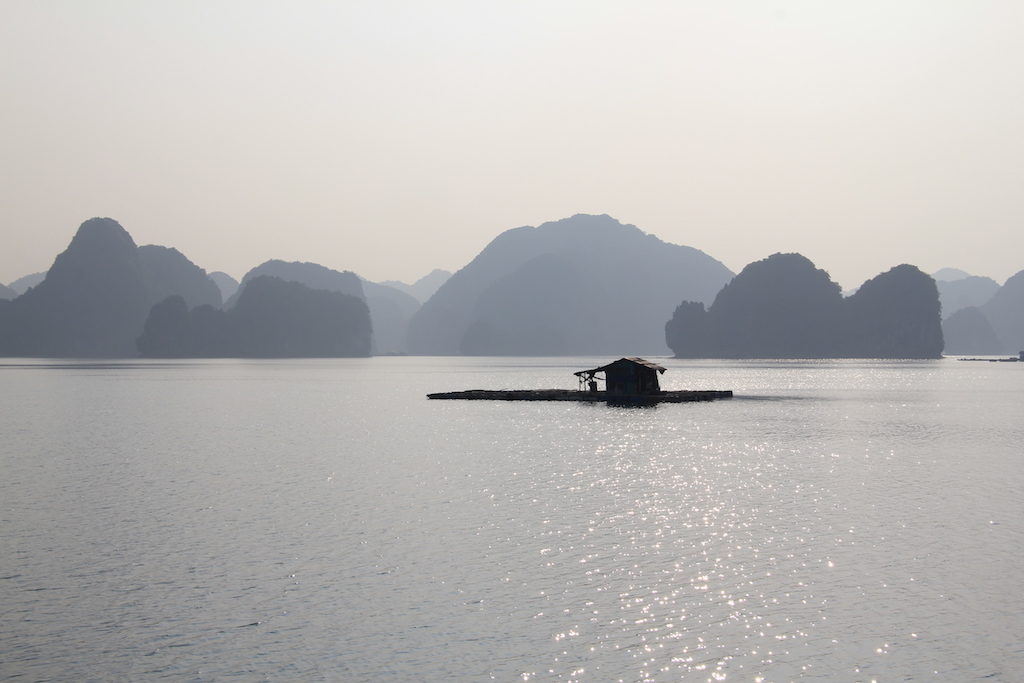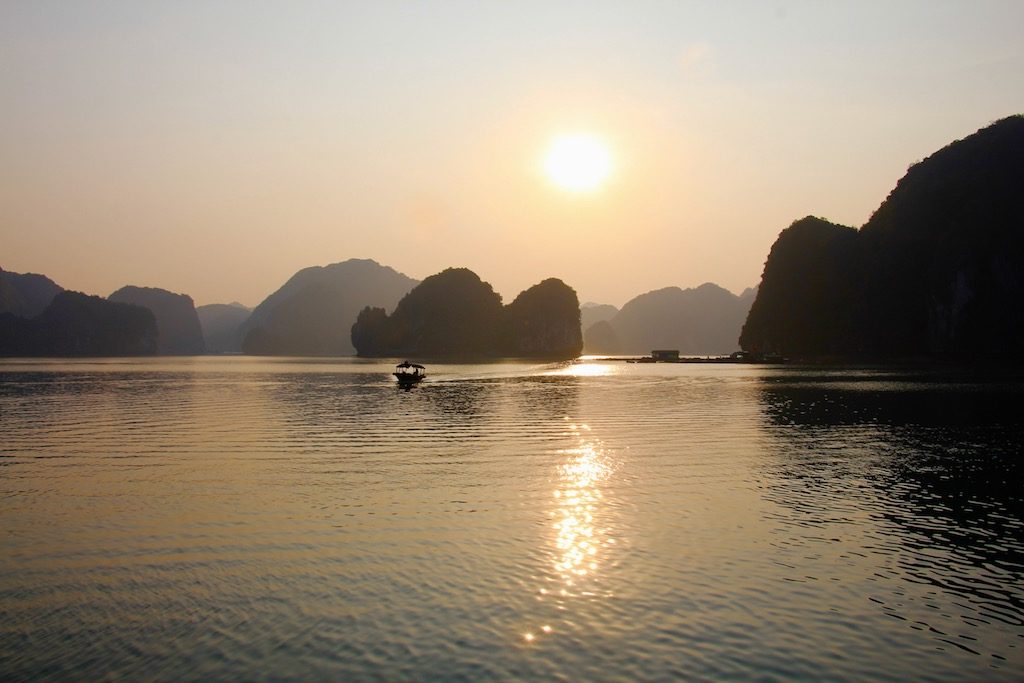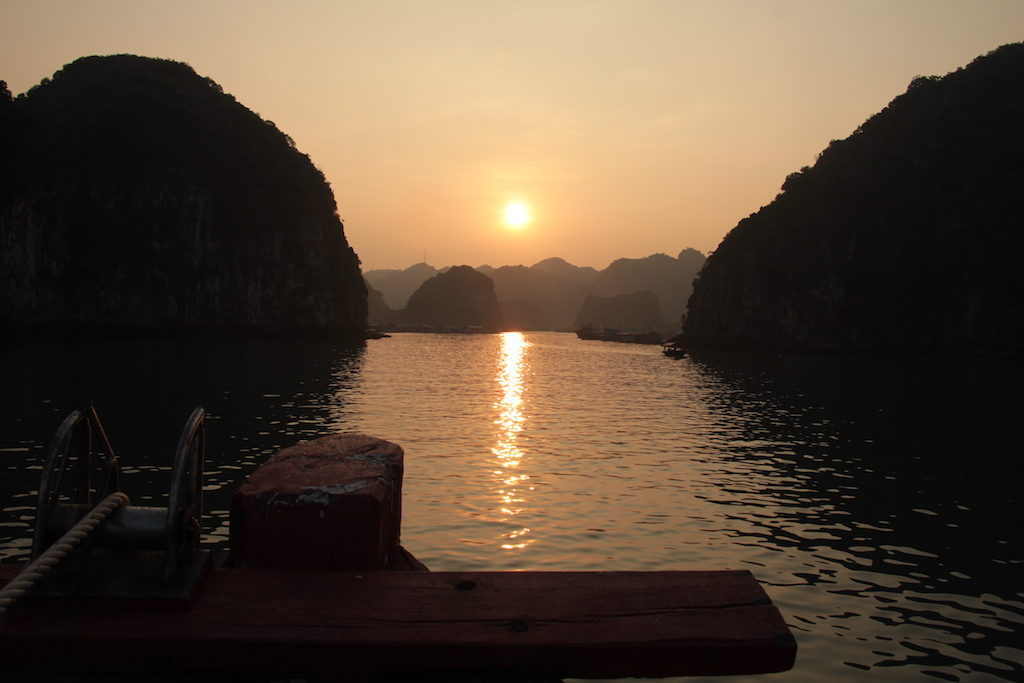 Hanoi was our last stop in Vietnam. It was slightly warmer and Vietnam was getting ready to the most important festival – Tet – the Vietnamese New Year. Everything was decorated with peach trees and we saw many people buying small ones and taking them home on their scooters. Similar to how we do with Christmas trees in Poland.
The pollution levels exceed all limites so a short walk in the city resulted in a monster headache. But before that headache there were terribly serious faces of guards in Ho Chi Minh mausoleum. The father of the nation, present on every note with the same smile, here laying pale in his huge, gloomy tomb. It is not allowed to take photos and one should behave, move slowly and do not make stops (we tried). The surroundings of the mausoleum are an absurd mix of socrealistic architecture, chinese temples and gardens with chinese tourist groups strolling between attractions. Each one with a guide, his micrphone and his loudspeaker. We left as soon as possible. Along the way home – endless bazaar which is like an essence of our whole stay in Vietnam – fascinating and disgusting, beautiful and plain ugly at the same time. Pink and yellow flowers, tangerines, vegetables, spiked hats, bicycles, scooters, rubbish and chicken being killed and prepared on the street. Steaming soup next to trash cans, endless car horning, mix of tasty food smell and vomit. I am leaving with a relief. I am tired but I feel like I want more and would be happy to come back.